---
January 2015
---
In this issue:
Making Money On The Internet

Art (another photographer nail fan)

In The Media - Strong Women, Strong Hands and more

Old Friends - How does Ayanna manage every day?

YouTube videos - our popular collection of videos old and new
---
Making Money from Internet Nails
Part 1 of 3 - Nailslong.com
Last month we focused on Sees Nails, a newcomer to internet nail sharing and outlined a few options for the future. In a series of three articles we'll focus on making money from beautiful nails on the internet, and start with http://www.nailslong.com, a website that encourages women to show off their nail beauty, and encourages fans to reward the nails they like with donations.
Nailslong.com currently hosts a roster of over 970 models, and to date over 65 of them have benefited from around $7,000 of donation money. Of course some are more popular than others, with two thirds of that money going to the top ten most popular women. Here is that top ten list correct up to November 2014 as published on the NailsLong website. All donation currencies have been converted to US dollars for easy comparison. Please note that the amounts listed are total donations. NailsLong.com keeps 20% of this amount and passes 80% to the hand model.
Of all the methods of making money we are looking at, this is the most direct, with optional Facebook contact for fans to express their pleasure and for the models to get direct feedback from their fans.
| | | |
| --- | --- | --- |
| Place | Name | Total |
| 1 | Parisienne | $931.25 |
| 2 | Nailsfashion | $800.00 |
| 3 | Reallongnailsuk | $506.25 |
| 4 | Sayuri88 | $426.25 |
| 5 | Crystal Gio | $400.00 |
| 6 | Alexlong | $366.25 |
| 7 | Dani 89 | $306.25 |
| 8 | Emanuela | $306.25 |
| 9 | Tima Thai | $281.25 |
| 10 | Katilouise | $218.75 |
---
In the media

We came across this article about strong women and strong hands.
http://www.freep.com/story/life/wellness/2014/10/25/hands-strong-women/17454447/
The woman that stands out for us is Tracie Hendrix. As Tracie says:
"My hands say, "Please don't judge a book by its cover."
People see my nails and automatically assume I don't work or have limited capabilities while, in fact, the complete opposite is true. I'm an insurance claims processor. I work on my vehicles, volunteer and build homes for Habitat for Humanity. I'm a certified car seat technician, I install smoke alarms in low-income homes, type, work in my yard, cook, clean and yes, I can dress myself.
I paint my nails with Krazy Glue and Hard As Nails and can get a light acrylic applied every two months. I can probably do more than the average person who has nails much shorter than mine. The only thing I can't do is bowl.
The only real issue I have with having long nails are the stares that I get from people who don't understand why or how they get to this length? I prefer people to just ask me as opposed to gawking at me as if I'm a carnival freak show."
Another website to catch our eye is Aleida.net, or more specifically the collection of hand and feet photos from the website at https://www.pinterest.com/source/aleida.net/
Once again Baidu comes up with some beautiful natural Chinese nails at
We recommend you explore the link for more like this:
---
Old Friends
Ayanna made the UK press where she have her story about her life with long nails. Check it out here:
http://www.reveal.co.uk/real-life-stories/news/a613228/my-nails-are-23-inches-long.html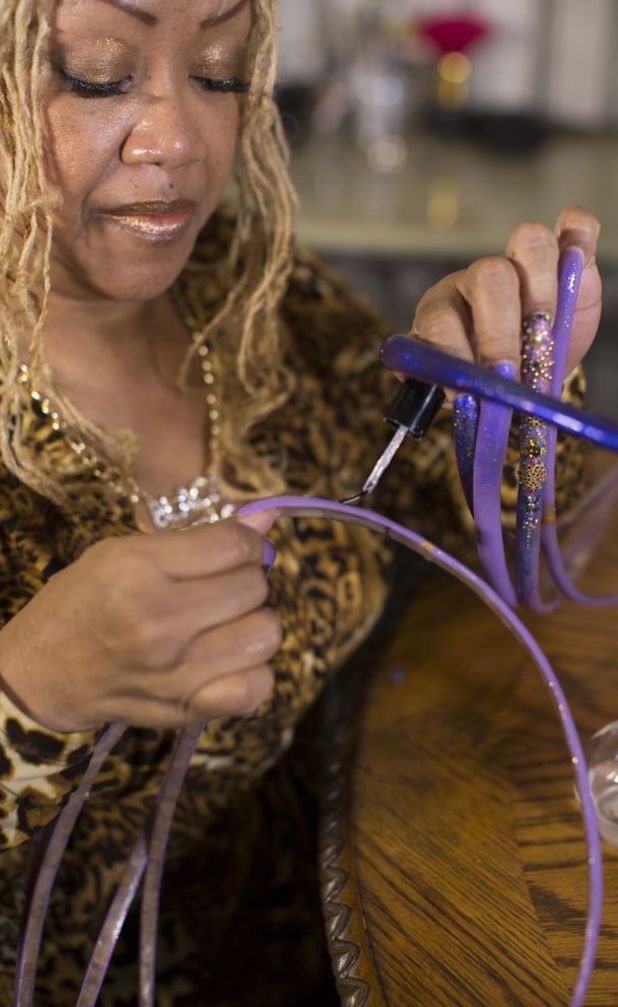 ---
At The Movies
One of the least nailsome (is that even a word?) actresses, Meryl Streep, dons some mean looking claws for her part as the witch in the new film Into The Woods out this month.
---
YouTube Videos
Good to see that the lovely Facebook star
Quell Aguiar
has started to make videos:
Isabella Demarko
is another Nailslong star who is making some watchable videos:
We always love naked nails so we thought we'd bring this video from
themutantsith
to your attention:
For those who like their fingernails AND toenails here is
Miss Kylie Banks
showing off both:
... a blast from the past;
Black Beauty Ebony Mistress
shows off her nails on the beach:
Footnote 1 from
Liza Long Toenails
having those beauties blown dry:
Footnote 2 from
Ayanna
who has re-attached her long toenails after her trip to Europe:
and a final footnote from
Feetgoddess99